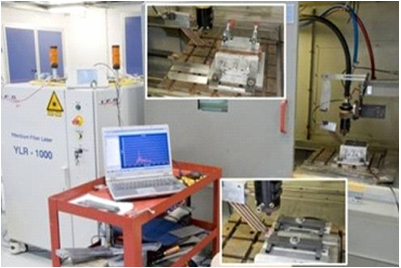 SITEC - Laboratory for Laser Applications
The use of light as a manufacturing tool enables us to improve or substitute existing production processes and realize new ones. With only over 50 years of history, there is still much to be discovered about lasers also in industrial production. Established in 2000 with this vision, SITEC is a research laboratory devoted to the study of high power lasers in industrial manufacturing.
Manufacturing processes that employ a laser beam as the tool require knowledge on both light/matter interaction and automation. The laboratory is equipped with several high power, high brightness, continuous wave or pulsed lasers and industrial automation systems that are integrated for different applications. Over the years, SITEC has developed successfully processes for macro and micro applications such as laser welding, cutting, cladding and additive manufacturing, as well as studying design rules for laser based manufacturing. Once the processes evolve from feasibility study to optimization, monitoring and control strategies are also investigated. In particular, the patented Through Optical Combiner (TOC) monitoring system allows for acquiring process emission in coaxially and remotely exploiting the modular architecture of the fibre laser. In laser micromachining spectroscopy self-mixing interferometry are used for monitoring ablation dynamics and depth.
The developed research activities serve several sectors namely, automotive, aerospace, energy, biomedical, white-ware and electronics. Close collaborations with industrial partners have been developed, as technological transfer to companies constitutes an important part of the activities.
The lab is equipped withthe following devices and systems:
IPG Photonics YLR-1000 CW, 1 kW fibre laser
IPG Photonics YLS-3000 CW, 3 kW fibre laser
IPG Photonics YLP-1/100/50/50 PW, 50 W fibre laser
IPG Photonics YLPG-5 PW, 6 W green fibre laser
BLM Group LTComboFiber cutting system
TrumpfPowerweldNd:YAG HL 124P welding cell
ABB IRB 4400 anthropomorphic robot
ABB IRB 2400 anthropomorphic robot
Comau Smart Laser
Prototype LMD and SLM systems
Aerotech ALS e ACS precision stages
HighYag micro cutting head
LaserMechFineKerf cutting head
HighYag BIMO welding head
Sulzer-Metco 5MPE powder feeder
El.En. ScanFiber scan head
Sunny TSH scan head