MI_crolab (Micro MACHINING LABORATORY)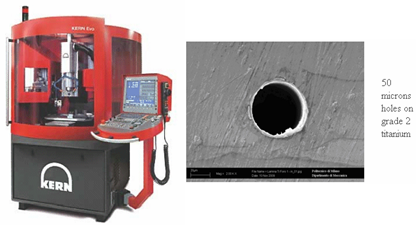 MI_crolab activities started at the Department of Mechanical Engineering of Politecnico di Milano in 2008 thanks to co-founding of its launch project by the Department itself and the Italian Ministry of Education, University and Research (MIUR). The mission of the laboratory is to study the fundamentals of the material removal mechanism in micro mechanical machining (micro milling, micro drilling, micro turning, etc.) and to apply this knowledge to the industrial field based on real case studies and applied research projects.
Micro mechanical machining involves tolerances on the workpiece in the order of 3 um or less. This class of precision is commonly called "ultra precision" and can only be obtained by means of high performance machine tools, such as the one available at the MI_crolab (Kern EVO 5-axis CNC machining centre; precision on the workpiece: ± 2.0 um; spindle speed: 50,000 rpm; controller: Heidenhain).
MI_crolab offers new research opportunities in the field of high precision manufacturing processes, particularly important for well-established and fast-growing industrial sectors, as bio-medical, energetic, aerospace and electronics, which demand large volumes real 3D micro-components on a wide range of materials (metallic alloys, composites, polymers and ceramic materials).
MI_crolab aims to promote high precision and micro machining in Italy, offering specific knowledge and equipment to industries through targeted projects and a network of contacts with the most important Italian and International research centres and Associations of the Micro World.
More information
Contacts